We know how important it is to be able to reach your fans and get discovered by new listeners. 
That's why we're excited to announce that Level now sends your releases to Facebook and Instagram Stories — available to Level Premium members.
This means when you release via Level Premium, anyone creating a Facebook or Instagram Story can now add your tracks to their Story with Music Stickers. 
Read ↴ for a quick How-To and see how a Level Artist used this feature as a part of their latest release strategy. For more info on what to expect with this update, check out our FAQ.
Features
& Plans
| | | |
| --- | --- | --- |
| Features | Free | Premium |
| Tracks | 2 | 200 |
| Artists | 1 | 5 |
| Artist Support | X | X |
| Worldwide or Regional Distribution | X | X |
| Custom Release Date | X | X |
| Release Analytics | X | X |
| Smart Release Pages | X | X |
| Downloadable Sales Reports | X | X |
| Withdrawals via PayPal | X | X |
| Custom Label Name | | X |
| Production Credits | | X |
| Catalog Transfer | | X |
| Facebook and Instagram Stories | | X |
The ease and accessibility of the Music Sticker tool has helped make this personalized approach to word-of-mouth promotion extremely popular since Instagram added the Music Sticker to Stories.
"I've had fans DM me on Instagram, asking me why my music wasn't there," says Brooklyn artist Casper Jones. "They really wanted to use it to post. I think it's a really good way for fans to integrate music from artists they like into their lives."

But Music Stickers aren't just for your listeners. By creatively pairing them with original content, you can build a DIY marketing campaign to effectively promote your next release.
Morissa Trunzo of Los Angeles alt-pop duo Misty Mtn shares their strategy for their latest single "Woah, I'm Older." 
"Part of our marketing strategy as a band has been figuring out how to incorporate our songs before they come out in a way that gets people interested in what the rest will sound like," she explains. "But then the question becomes, especially when you're an independent artist, what happens after the song comes out?"
To help promote the track, the group enlisted a friend to create a custom GIF, which they paired with a Music Sticker. The visually-striking photo of the two artists, overlaid with drifting clouds, helped support the dreamy nostalgia their music evokes.
The feature has also helped Misty Mtn learn the particular (and sometimes unexpected) associations that listeners have with their music. 
"A lot of the time I've seen people posting lyrical dances to [the music]. That's been really interesting. We also have a song called 'Drive.' And I feel like the most engagement we've seen with this feature is of people just posting videos of themselves driving. I'm like, 'Okay, you really took that literally,'" she laughs.
However you use it, Trunzo emphasizes the importance of maintaining your creative freedom throughout the process. Don't stress over the end result.
"Just get creative with it," she says. "It's a tool for you to use. If your dog is doing something dumb and you want to put your song behind it, that's probably going to get more views than something that was really thought out and planned out. There's less expectations to it."
As technology changes, so will our approaches. We're excited to see how this new feature helps our artist community by giving Level Artists more ways to shape their story, further their reach, and evolve as they move along their journeys.
In just a few taps, you and your fans can add your music to their next Facebook or Instagram Story. 
1️⃣ After choosing or capturing the photo or video you want shared to your Story, swipe up.
2️⃣ Select the Sticker button and choose to add a Music Sticker. Search for and select your release.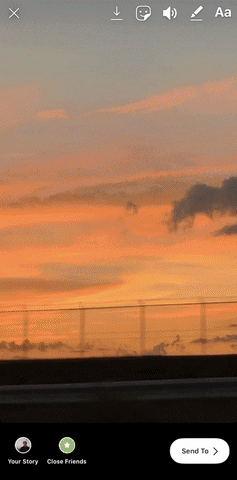 3️⃣ Tap to browse the style and formatting options. Specify which part of the track you want to use by toggling the progress bar at the bottom of the screen. Choose how long you want the clip by tapping on the ⑮ in the lower-left corner.
4️⃣ Once you're happy with how your Story looks and sounds, share your story by tapping "Send To >."